RenoZone provides companies with a rapid and secure option for migrating workloads to AWS. By using RenoZone, all resources are ensured to be securely and automatically configured, with constant adherence to AWS best practices and the Center for Internet Security (hereafter CIS) standards. This solution is readily customizable based on your organization's specific needs.

How does RenoZone work?
Let's discuss how RenoZone work – Simplifying Landing Zone configuration with automated best-practice framework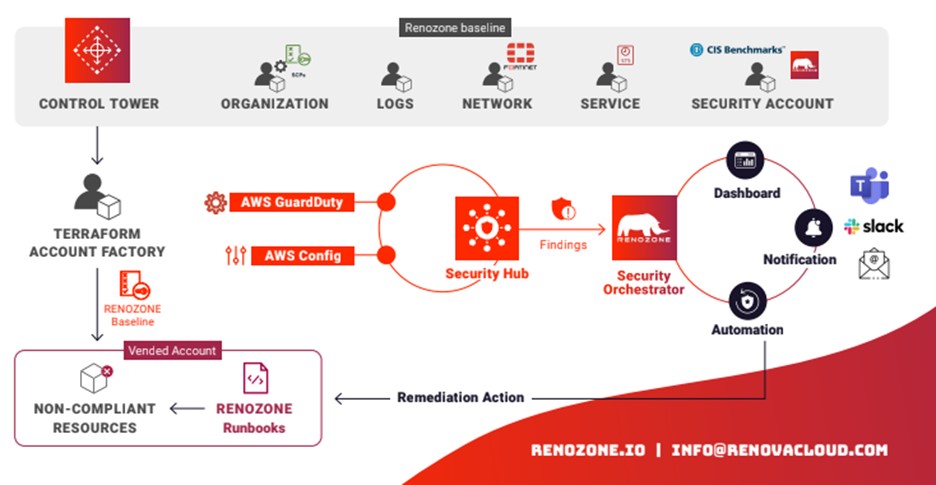 1.Establish a Pre-built Landing Zone with Control Tower that Adheres to The CIS Benchmarks 
At the foundation lies RenoZone baseline, which consists of a pre-established Landing Zone by installing Control Tower that adheres to AWS best practices and CIS benchmarks. The primary components include Organization, Logs, Network, Service, and Security account. Fundamentally, the Control Tower enables easy setup and management of multiple AWS accounts within an organization. In order to ensure a high level of security compliance across AWS environments, all Security Accounts in RenoZone are configured to align with the CIS benchmarks. Some aspects of CIS compliance include account isolation, guardrails implementation, Identity and Access Management (IAM), data encryption, logging, and so on. On the other hand, AWS Security Token Service (AWS STS) is also enabled to regulate user authentication and privileges, and to prevent unexpected account suspension. With regard to the network component, Fortinet is also incorporated within RenoZone to offer superior threat protection and network security for all of AWS workloads.
2.Govern and Provision Accounts Securely & Automatically via RenoZone Baseline and Account Factory for Terraform (AFT)
With the AWS Landing Zone at the foundation, RenoZone is also seamlessly integrated with AFT. This powerful combination allows organizations to effortlessly govern and provision AWS accounts with unparalleled security and automation. RenoZone leverages Control Tower's automated account provisioning capabilities to create AWS accounts that adhere to predefined security and compliance standards. These standards are enhanced with custom configurations specific to the organization's needs, seamlessly managed through AFT. The result is a streamlined, secure, and fully automated process that ensures consistent adherence to security best practices and compliance standards across the entire AWS environment.
3.Enable Comprehensive & Intelligence-based Control over AWS Infrastructure & Resources with AWS Security Hub
RenoZone's AWS Security Hub is a dynamic and intelligent cloud security posture management (CSPM) service built upon the capabilities of AWS GuardDuty and AWS Config. By harnessing these powerful AWS services, RenoZone enables organizations to achieve comprehensive and intelligence-based control over their AWS infrastructure and resources. Security Hub acts as a centralized hub for security monitoring and compliance, providing real-time insights and threat detection. It combines the threat detection capabilities of AWS Guard Duty with the continuous monitoring and resource tracking features of AWS Config, allowing organizations to proactively identify and respond to security risks and compliance violations. With Security Hub, you can maintain a vigilant and adaptive stance, ensuring the security and compliance of your AWS environment is constantly optimized and fortified.
4.Automate Self-healing IT Operations: Automatically Sends Alerts and Remediate Misconfigurations in Compliance with CIS Benchmarks via RenoZone Runbooks
RenoZone's Security Orchestrator is a vital element that leverages the insights generated by Security Hub to deliver a robust and proactive security management experience. Using the data and findings from Security Hub, it dynamically creates comprehensive dashboards that provide real-time visibility into the security posture of AWS resources. Beyond monitoring, Security Orchestrator ensures timely notifications by sending alerts through various channels such as Teams, Slack, and email, empowering teams to respond swiftly to emerging threats and compliance issues. What sets it apart is its capability to take immediate action. It automatically executes remediation actions based on RenoZone's predefined runbooks for non-compliant resources, helping your organization maintain a resilient and secure AWS environment by addressing security concerns in a timely and automated manner. This integrated approach streamlines security operations, minimizes risks, and enhances overall security and compliance posture.
Conclusion
RenoZone offers organizations a fast and secure solution for moving workloads on AWS. With RenoZone, you could safely fast-track their cloud journey by utilizing a pre-built, server-less, and fully automated enterprise-scale solution running on Infrastructure as Code and Cloud native services. The results are fully automated resources configuration and security event governance always at your disposal, while being strictly complied with AWS best practices and CIS standards. 
Start with RenoZone today!