Industrial Gas and Welding Electrode Joint Stock Company (SOVIGAZ) is a Vietnam-based company operating in the manufacturing industry, with leading products as industrial gases, organic and inorganic chemicals, as well as welding equipment. Apart from producing industrial supplies, the Company partakes in the provision of medical and industrial machinery quality testing services; the reparation and maintenance of oil and gas pipelines, warehouses, and related structures, as well as the wholesale of diversified industrial supplies.
Sovigaz is using legacy on-premise infrastructure to host  it's applications including 4 systems: Data warehouse, Barcode systems, Website and CRM within a different hosting provider and by different software supplier. It is a big challenge for the company to centralize management and monitor their own assets,. Beside, the data security remain a big concern. The company also plan for expanding to keep up with digitalization trends by adopting new technology as well as big data and analytics to increase productivity. These new technologies and services are  almost impossible  to achieve if trying to leverage the existing infrastructure for that purpose.
Carefully reviewing the situation and requirements of Sovigaz, Renova Cloud as an AWS Advanced Consulting Partner proposed to move all existing system infrastructure to AWS environment with mutually agreed architecture which can enable the customer to centralize monitoring all the current and future planned systems in one place. AWS Identity and Access Management (IAM) help to manage access to services and resources securely together with managing AWS users and groups. CloudTrail helps to log, continuously monitor, retain account activity related to actions across all AWS infrastructure by providing event history.
Understanding that data security is a very important concern, all internal systems were put into private subnet with CloudWatch monitoring and strict firewall setting. Proper backup plans were also set using AWS Backup and Simple Storage Service S3 to ensure the data availability and durability.
The solution also gives to Sovigaz the ability for future scaling and apply data analytics, using tools from AWS to do data mining and BI.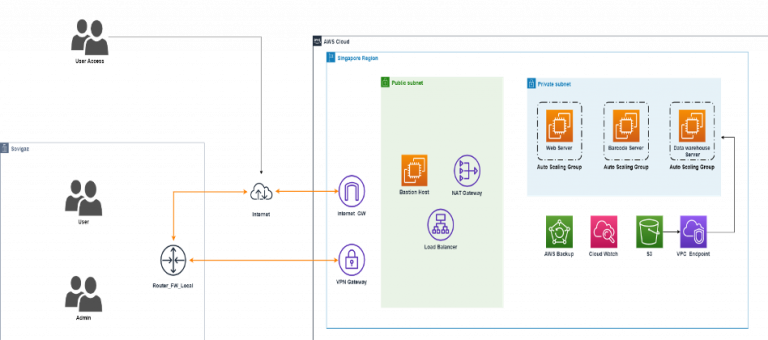 The agility of the new infrastructure help Sovigaz to relieve the burden of infrastructure management and catch up with modernize advanced services from AWS. The benefit of cloud security and data protection also pay off to the reduction of security investment.
Besides moving to the cloud also gives:
COST OPTIMIZATION
– Just pay for what you use
– No upfront investment
– Fast to go live with new and updated services
– Less efforts and investment on IT operation
– Not stuck always paying for peak demand
FACILITY
– Stable & Secure instant and continuous availability
– Unlimited hardware capacity
– Easy to scale up / down
SIMPLICITY
– Simplifying IT systems & architecture
– Ease of use, management and operation
– More Automation and Orchestration