Accelerate SAP S/4HANA Transformation With AWS
Pepsi Co is a world-famous beverage manufacturing company, with local chapters in most countries. In Myanmar, Pepsi products are managed under Lotte MGS Beverage Ltd, a cooperation of two major beverage and FMCG corporations, Lotte with headquarters in South Korea and MGS a local enterprise in Myanmar. Pepsi's entry to the Myanmar market has been an undeniable success.
To support further growth and gain additional benefits through better business processes and data management, Pepsi Co Myanmar was looking to modernize their existing systems and launch a new platform for their users and applications utilizing the up-to-date technology solutions.
Lotte MGS had a preference on using SAP for their business needs, due to the both companies and also Pepsi in other countries having a long and successful history of using SAP-based products and services. This, and the prediction of considerable growth of usage, data and analytics, made a large-scale SAP deployment a natural choice for the customer.
The customer had a pressing business need to get the new system up and running efficiently in a short timeframe, as their existing solutions and platforms didn't scale for the growth requirements. At the same time, the external environment of the company was in a rapidly changing state, which made large-scale procurements of physical hardware very difficult and unpredictable. It was determined that only a deployment to public cloud can sufficiently satisfy the requirements, as a cloud environment enables fast provisioning of servers with a variety of sizes from small to large, configuration of additional environments on-demand and also on temporary basis as needed, as well as excellent connectivity.
At the same time, the customer required deployment of several custom SAP S/4 HANA based Applications as soon as possible. The development, configuration and utilization of the Applications involves multiple actors within and outside Myanmar, some of them belonging to Pepsi and Lotte MGS, others representing partner companies and contractors. Finally, high importance is placed on following the best practices and being eligible for official SAP support, which is dependent on utilization of SAP-certified configurations.
All these requirements led Lotte MGS to choose Amazon Web Services (AWS) as the hosting provider for Pepsi's SAP S/4 HANA applications. AWS emerged as the chosen platform due to the excellent support for and long partnership of SAP on AWS, ensuring the best starting conditions for the enterprise workloads. Also important was that AWS already had a firm presence in the Myanmar market, having a variety of large and essential businesses as its customers. The actual infrastructure planning and implementation would be delivered by a Southeast Asian partner with a proven experience of successful delivery of large migrations and greenfield deployments for enterprises in Myanmar. Renova Cloud was chosen to deliver the infrastructure solution for the project.
SOLUTION - RENOVA CLOUD APPROACH
Renova Cloud reviewed the customer's requirements and SAP landscape as described by SAP consultant partners and Application developers to design a suitable solution. The following main topics were identified as of importance to meet the needs of stakeholders:
The SAP S/4 HANA workloads must be deployed in virtual servers meeting the SAP-certified configurations for server sizing, storage sizing and Operating System (OS)

There should be multiple environments for production and non-production workloads with a proper separation between them; however avoiding over-engineered solution

A single node configuration with HANA DB and Apps on the same server preferred

Private connectivity from Pepsi premises and from external consultants required

High Availability configuration for HANA is not required as long as the system is stable and the backups are managed orderly

Cost-effectiveness: since the customer is located in Myanmar, there is a limited budget and so the solution must contain only the necessary services
Based on these high level requirements and detailed discussion with developers and consultants regarding the sizing and usage patterns, Renova Cloud drafted a solution on AWS. The infrastructure was deployed first and over the following one month, Renova Cloud supported the consultants and developers to implement the workloads and applications.
The main SAP workloads including 4 separate S/4 HANA environments and Solution Manager (SolMan) were deployed in large R5 type EC2 instances, leveraging the newest generation of AWS memory-optimized compute service. The lighter workloads such as SAP Router and bastion host were deployed using M5 instance type, suitable for general use. To alleviate the cost, the customer committed to 3 years of continuous usage, which allowed the purchase of Reserved Instances, achieving large savings on a monthly basis.
All SAP workloads use a storage configuration following SAP best practices, therefore multiple EBS volumes are associated with each HANA server to manage data, logs, shared and backup disks. The Operating System chosen for the servers is SUSE Linux Enterprise for SAP Applications 15 which has specific optimizations for SAP workloads. Renova Cloud manages the SLES for SAP licensing on AWS Marketplace, with annual subscription to the OS providing additional savings.
The servers are located in a single VPC, avoiding complexity of multiple separate logical networks and reducing the operational overhead. The servers are located in public or private subnets depending on the need of external access. Security Groups are used with detailed rules settings to achieve the separation of the environments and to restrict unwanted access both from outside and from the different environments within the VPC.
The secure private connectivity to the AWS VPC is managed through two different managed VPN solutions. Between customer's premises and AWS, a Site-to-Site VPN connection with a pair of tunnels is established, allowing connectivity of Pepsi users to their required interfaces. For the external consultants and developers, Client VPN is configured with the users as clients, and OpenVPN profiles distributed to the authorized users.
The overall architecture integrates many AWS services to support the SAP servers.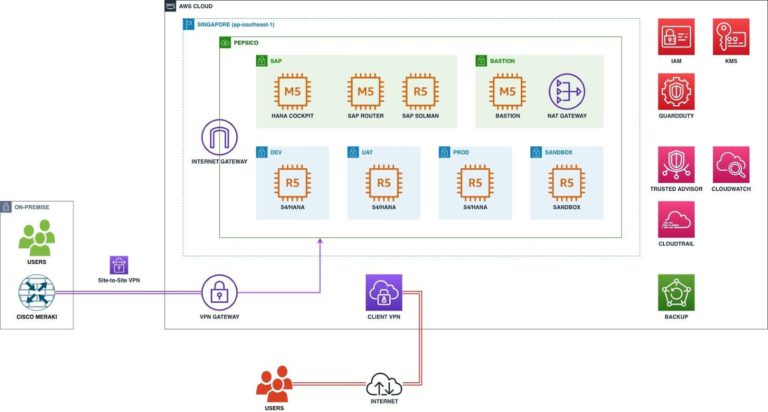 There are 3 separate environments, DEV, QAS and Production, to allow the customer to test any modifications before applying them in live production data. In addition, the Sandbox environment is available for consultant and developer to test the effect of major changes without the risk of affecting the main DEV to QAS to PRD workflow.
After going live, Pepsi Co Myanmar has a fully-functional SAP S/4 HANA environment covering their business needs for the coming 3 years. The sizing and pricing of the servers and storage was specifically planned to address the expected growth of usage and data over the coming years. While the Reserved Instances are continuously saving cost, at the same time due to the Convertible option having been selected, the servers can be scaled up or down later based on specific business needs. Furthermore, the elasticity of EBS volumes allows easily growing the data, backup and other volumes in the pace of customer's expansion.
The stability and security of the solution have been ensured by leveraging AWS services for identity and access management, monitoring server usage and detecting potential intrusions to the system. Customers can therefore completely focus on their business needs using the most up-to-date and trusted hosting solutions.