ABOUT NKID
Nkid Group is a pioneer and market leader in kids' edutainment platform. Over the past 5 years, Nkid Group has "Delivered Smiles" to over 5 millions kids and families. With more than 44 TiniWorld Centers, 35 TiNiStore shops as well as 2079 retail shops serving 8 million customers all over Vietnam. The group is on a continuous expansion with opening of new centers and shops to serve customers all over the country.
THE CHALLENGE
With a demand for new applications development and expansion of users on Nkid wide platform has required to IT and Development team to build an in-house platform strategy.
Nkid strategic decision to adopt a realistic view of the business requirements that will demand to adapt later to containerization of production workloads. The increasing demand for its application requires to expand the app's accessibility, power and presence. As the traffic and data flow increase the IT team will cope with changing demands that required system elasticity and fast reaction.
During the process, Nkid partnered with Renova Cloud to build as well as Backup and DR as part of the total system architecture. In addition, Nkid aligns it's business around cutting-edge solutions as part of AWS platform that pave the way of continuous growth.
KEY CHALLENGES
Container and advanced services usage for production deployments in enterprises is still constrained by concerns regarding security, monitoring, data management and networking. Nkid had also to face with the challenge of MongoDB migration to AWS.
Cloud-native applications requires a high degree of infrastructure automation and specialized operations skills, which are not commonly found in Enterprise IT organizations.
Identifying, creating and empowering the right team is challenging, due to legacy mindsets and operational burdens on team members.
With longstanding experience in cloud consultation, Renova Cloud leverages automation to help NKIDS move from on-premise infrastructure to cloud environment. We pair existing IT investments with secure, scalable solutions and overarching cloud management to create cloud-ready, agile infrastructure environments.
The target is to build a platform strategy hands in hand with Nkid that applies best practices across security, governance monitoring, storage, networking, applications life cycle management and container orchestration. Start with small, simple use cases; ensure that applications are stateless and immutable; and enforce standardization, automation and federation of clusters for easier management and rapid scalability.
Integrate platform as a service platform with continuous integration/continuous delivery, security and operational tools; if needed, then augment it with best-of-breed tooling that enables I&O to meet business SLAs and simplify developer workflow.
Create a platform ops team that works with application developers for platform selection and operations and is focused on continuous improvement to meet the required business SLAs of production applications. Renova Cloud Team has undertaken an investigation on the current situation of NKIDS and re-architect the whole system to meet the actual demand. Challenges and obstacles have been addressed along the process to set out an actionable implementation plan.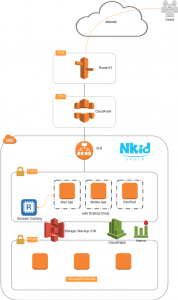 As a first stage, several cloud migration approaches have been considered for NKIDS taken into account the security, scalability, stability, Backup and DR matters.
EC2 instances are used for hosting Backend applications. For the sake of HA and scalability, Elastic Load Balancer, Auto Scaling have been applied. Route 53 and CloudFront are respectively used for DNS management, content distribution.
After a several weeks of operation, Nkid was adapted to the new system and improve the time-to-market for critical applications, satisfy internal customers, and IT quality and efficiency. Renova Cloud will continue to monitor the system with Nkid focus on monitoring at a service level of the "apps," rather than physical hosts.
As a Phase II of this project Renova Cloud will favor Nkid tools that have granular logging, supply automated service discovery and can provide action-oriented recommendations in real time, using analytics and/or machine learning.
Renova Cloud is an AWS & Google Cloud Advanced Consulting Partner.
Our goal is to help organizations to become agile and productive with advanced Cloud, Cyber & Big Data Solutions & Services. With our dedicated team in HCM City & Hanoi as well as presence in Tel-Aviv, we help businesses across South East Asia with the most advanced technologies platforms. Our focused and full-service solutions' portfolio in cloud leverages the best of breed technologies to help you scale your business processes with zero upfront capital investment. Renova Cloud is your partner for cloud-based services and will go along with you on the journey towards building an agile, secured and automated processes within your organization.
Contact Us | +84 2422209657 | info@renovacloud.com