IMV – ON-PREMISE TO CLOUD JOURNEY
International Minh Viet Joint Stock Co. is a distribution company which entails general trade, modern trade, as well as an e-commerce channel. IMV has 4 offices in Vietnam (Ho Chi Minh City, Ha Noi, Da Nang and Can Tho) and network all over 63 provinces in Vietnam. With a dynamic and creative team of sales and marketing, IMV has built a strong brand image and awareness for the company's long term partners Fujifilm and Pigeon in Vietnam. IMV's mission is to work hand in hand with partners to bring their brands and products to the Vietnam market and bring the best quality products to the Vietnamese consumer.
IMV hosts all their IT services in an on-premises environment. Because predicting the growth of popular services to estimate additional purchases or server upgrades is often inaccurate and can create costly mistakes, this infrastructure limits their future upgrade needs. Besides, operating and maintenance costs are increasing rapidly from services hosted on-premises. Therefore, IMV needs to balance the performance and stability with the cost of resource usage. In addition, IMV is looking for solutions such as managed services to monitor  activities in the operating environment.
With those requirements, IMV is looking for a way to migrate and operate their system on AWS, and IMV has decided to cooperate with Renova Cloud – AWS premium partner to gradually migrate the entire system to AWS.
The main project goals are defined as:
Separate environment between Staging and Production

Reduce costs and overload on operation and maintenance tasks

Easy to upgrade in the future
SOLUTION - RENOVA CLOUD APPROACH
After reviewing and assessing IMV's current system and requirements, Renova Cloud used AWS Application Migration Service (AWS MGN) to migrate IMV's servers to AWS. To perform this migration, it will be necessary to install the AWS MGN Agent on their on-premises servers.
To meet the need for separate Staging and Production environments, two VPCs will be created for this. During the migration, the test servers will initialize inside the Staging VPC. After testing, making sure everything is working as good as it did in the on-premises environment, we will initialize a cut-over to servers on Production VPC to complete the migration.
In addition, to ensure stable and controlled system operation, services are deployed such as: AWS Identity and Access Management (IAM) to help manage access to services and resources on a single basis securely, manage AWS users and groups. AWS CloudTrail helps monitor and continuously update activities taking place on AWS infrastructure, Amazon CloudWatch helps monitor resources in the system and sends alerts when the infrastructure system is overloaded, management intervention is required, etc. And finally, AWS Backup service is set up for backups, ensuring data availability and durability.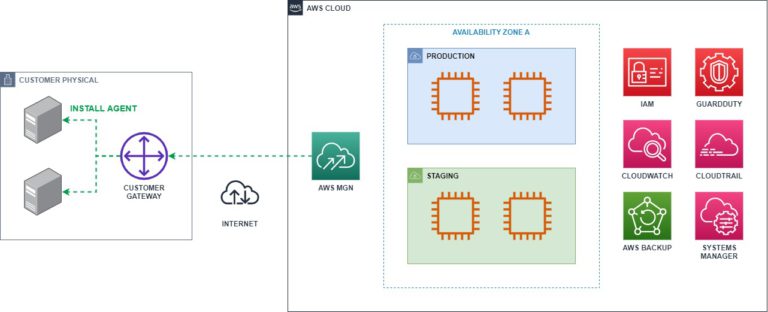 Pay only for what you use (on-demand)

Manage who has access to services and systems.

Monitor system activities.

Monitor and get notifications when the system is overloaded, requiring the intervention of management => minimizing pressure on the operation team.

Automatically back up and easily manage backups, increases the assurance of recovery if something goes wrong.

Ease and flexibility in future system upgrades.

Easy to use, manage, and operate, coordinate with other AWS services in the future.