For over 66 years, consumers have known and trusted KYMDAN (originating from Vietnam). The company's principal mattress and pillow products are used all over the world. In addition to mattresses and pillows, KYMDAN supplies customers with a wide variety of products such as beds and sofas. KYMDAN has a 3 large factory in Vietnam, 2 overseas subsidiaries, and 400 stores worldwide. 
As part of the company mission & commitment to its customers, it is essential for the IT and Development teams to support the advertising of Kymdan products to as many customers as possible. This is a critical need for Kymdan's business and Kymdan requires to have a fast and effective way to launch their web servers/mobile backend and it must be easy to manage those infrastructures.
During the process, Kymdan partnered with Renova Cloud to design its system architecture and deploy it using the cutting-edge technology of the AWS Cloud Platform.
Kymdan wants to serve many types of customers using both their mobile application and website. However, their budget is limited so they want to start everything small then can scale up when the business grows.
In addition, the operation of the system must be easy and effortless because of the restriction in Kymdan IT Team size.
Renova Cloud had teamed up with Kymdan to design and build their system on AWS environment:

Create VPC and subnets, security groups according to security best practices

Provide 3 different servers 2 Windows and 1 Linux for ERP, Website & Mobile Application.

Monitoring the usage and adjust the sizing of each server to keep the cost-optimized

Using managed services such as RDS to reduce the operation burden

Set up billing alerts to give Kymdan early warnings of resources usage monthly

Using IAM for easy user & credential management
The website and ERP application were developed using .NET Framework so they have some environment requirements :

They must be hosted on servers with OS of Windows Server 2012 or higher

.NET Framework 4.5 must be installed

Website is hosted by IIS 10 or higher

Both applications share a database using MS SQL Server 2017

All of these requirements are easily fulfilled with EC2 and RDS services of AWS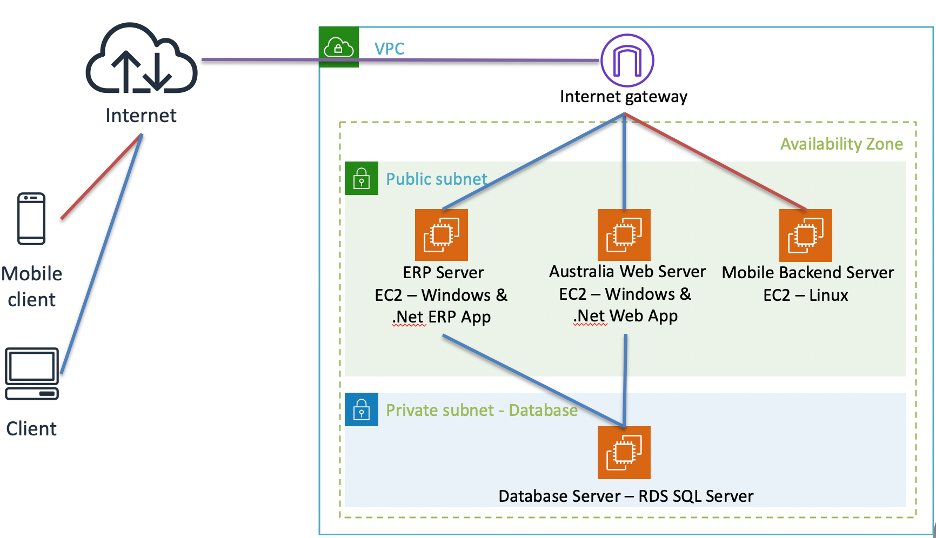 Major benefits for Kymdan include:
✓ Just pay for what you use
✓ Fast & easier to launch the system to meet business requirements
✓ Simplifying IT systems & architecture
✓ Ease of use, management, and operation
✓ Stable & Secure
✓ Unlimited hardware capacity
✓ Easy to scale up / down